START OF EARNINGS
After a simple registration, you will be redirected to your personal account, where all your important data will be indicated. And also, after registration, you automatically connect to the mining pool and receive the "Oberyn Martell" character absolutely free of charge, which will generate income for you. In order to get acquainted with your first character, you need to go to the "MY BATTLE" section using the navigation menu.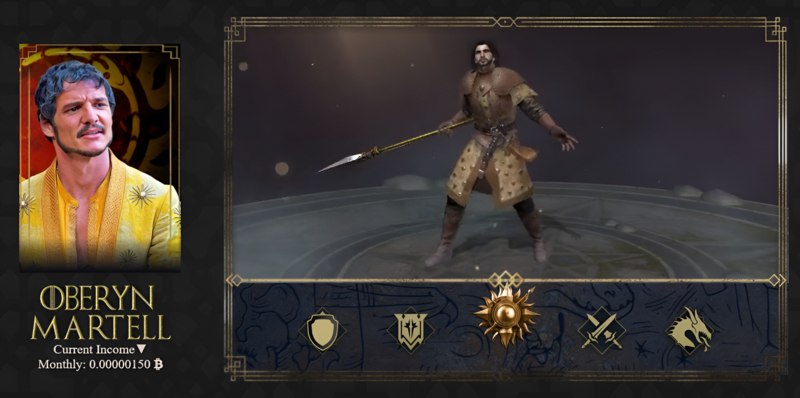 STRENGTHENING THE POOL
All characters are equipped with amplifiers (upgrades). Each character, like your first character, has various boosters in the form of equipment(1), warriors(3), castles(2) and dragons(4). There are only 13 amplifiers for each character. To switch between the character and the amplifiers, use the navigation buttons located in the character block.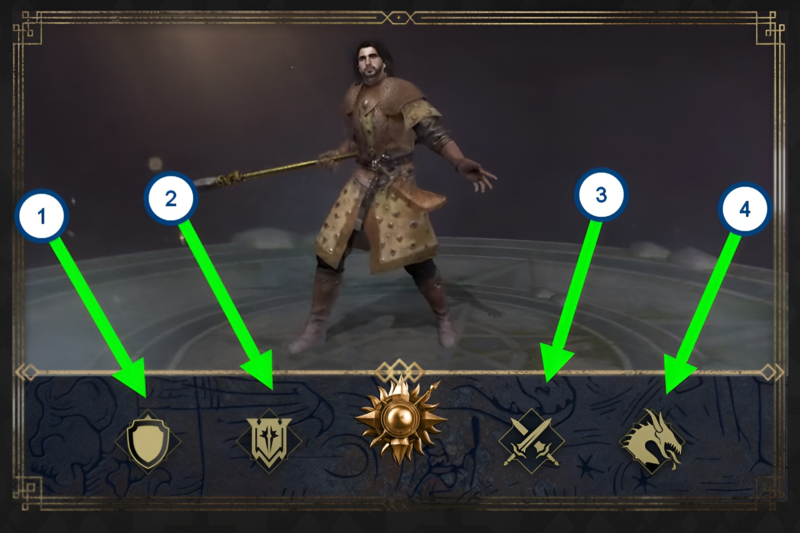 PROFIT COLLECTION
In the "MY BATTLE" section there is an income counter(1), which shows your real-time mining income in Bitcoin. Click on the "COLLECT" button(2) in order to send the accumulated income to your Main Balance. You need to collect income from the counter at least once every 24 hours, otherwise your mining pool will stop until you collect income. After collection, your counter will resume its operation and your miner will continue to generate income for you. It is recommended to collect income at least every 23 hours to prevent the miner from stopping.

COMMANDERS
To strengthen your mining pool, you can purchase new characters in the "COMMANDERS" section. Before choosing a particular commander, you can familiarize yourself with all its capabilities. After you purchase a commander, he will appear in the "My Battle" section and your miner will strengthen according to the conditions of each of your commanders. In the "My Battle" section you will see miniatures of all available project commanders. A black and white miniature(1) means that you have not yet purchased the commander. A colored miniature(2) means that the commander belongs to your army. By clicking on the colored thumbnails you can switch between your commanders, get acquainted with their conditions and purchase amplifiers for them.

AMPLIFIERS
You can familiarize yourself with the conditions for purchasing each amplifier by switching between amplifiers. For example, in amplifiers of the "Castles" type there are 3 different Castles, you can switch between Castles using the side buttons(1), for the "Warriors" amplifier type there are 4 different warriors, and so on. Read the terms and conditions of the amplifiers and to purchase, click on the "Buy Now" button(2). Buying amplifiers is possible only after purchasing a commander.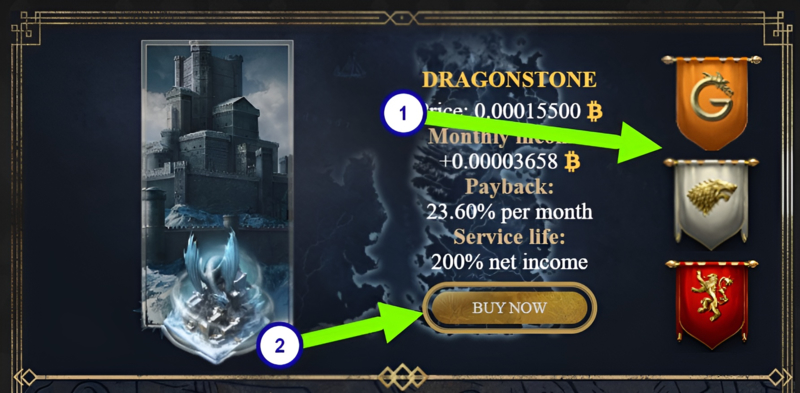 BALANCES
MAIN-BALANCE(1) - this is your main balance, which will receive rewards from mining, from the affiliate program, from winning competitions and from viewing sites in the surfing section. From this balance you can order a withdrawal of funds, to this balance you can make a deposit, from this balance you can also buy commanders and amplifiers (upgrades) for them.
SUB-BALANCE(2) - is a bonus balance that receives rewards for activities such as quests and offers. You cannot withdraw funds from this balance, but you can purchase characters and upgrades for them. When purchasing a new character or upgrade, the system automatically checks both of your balances; first, the entire amount that is on the SUB-BALANCE is withdrawn, and the balance, which is not enough for the purchase, is removed from the balance. MAIN-BALANCE. Thus, SUB-BALANCE is an auxiliary balance for increasing mining power.

SETTINGS
To receive payments, you need to set up your details from the payment systems to which we will send your income after you order a withdrawal of funds in the "Settings" section. To install, you need to indicate your cryptocurrency number(1) and click on the "Confirm" button(2). You can change your installed number yourself if necessary, but not more than once in 24 hours.
Also in the settings you need to set a PIN CODE, which you will need when ordering a withdrawal. The PIN code is used to confirm the withdrawal of funds. Only you will know this code. You must come up with a PIN code yourself and install it (a combination of 8 digits). It is recommended that after setting the PIN code, write it down in a safe place and not pass it on to third parties.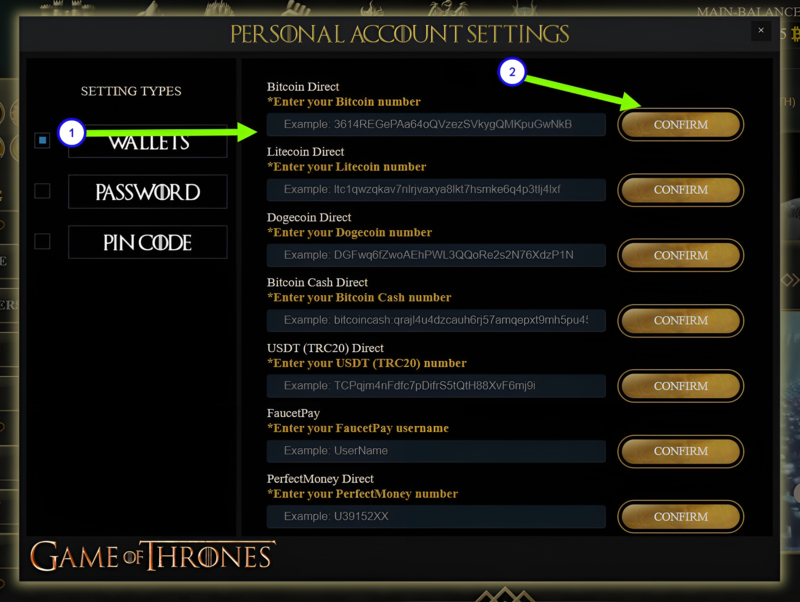 WITHDRAWAL
Withdrawals are carried out through several payment systems. First, select a payment system and currency(1), then indicate the amount you want to receive(2). To confirm the operation, you need to specify the password for your personal account of the Game of Thrones project (the password you specified when registering in our project)(3) and the PIN code that you set in the settings section and which only you know(4)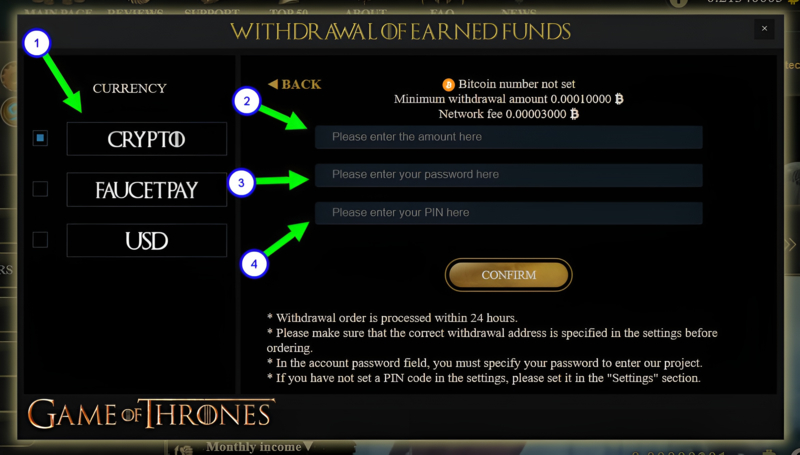 ADDITIONALLY
In addition to mining, our project provides for such types of earning bitcoins as: Site surfing(1), Offers(2), Competitions(3), quests(4). You can easily earn bitcoins by completing various tasks provided by our partners, browsing advertisers websites, participating in competitions, and completing simple quests. This will help you strengthen your army and secure your place at the top positions in the mining pool.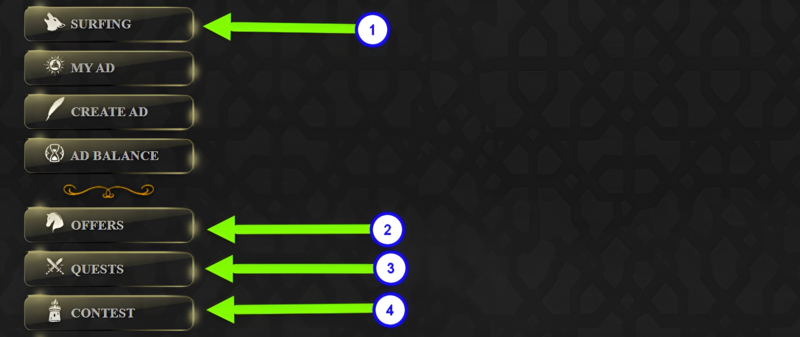 NAVIGATION
Each section has question marks(1)(2)(3)(4), by hovering your cursor over them you can get answers to basic questions about the work of a particular section. We tried to simplify the process of participating and earning money in the project as much as possible, and placed question marks in key places. If you do not find the answer to your question or have any difficulties, you can always write to our support service using the contacts provided on the website.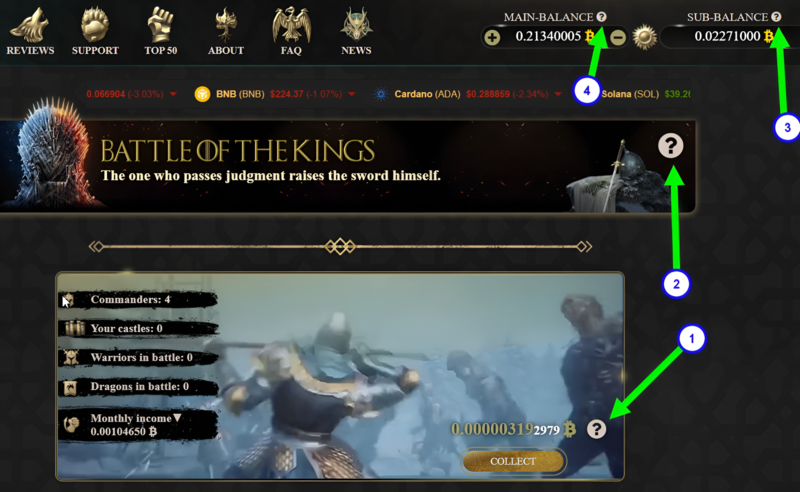 ADVERTISERS
To order advertising in our project, you need to top up your advertising balance. Your advertising balance is displayed in the "CREATE AD" tab in the upper right corner(1). After replenishing your balance, you will be able to create an advertising campaign that will be displayed in the "Site Surfing" section for all our participants. After creating an advertising company, you will be able to manage it in the "MY AD" section